Where to Eat Tacos in Tulum: A Culinary Adventure in Paradise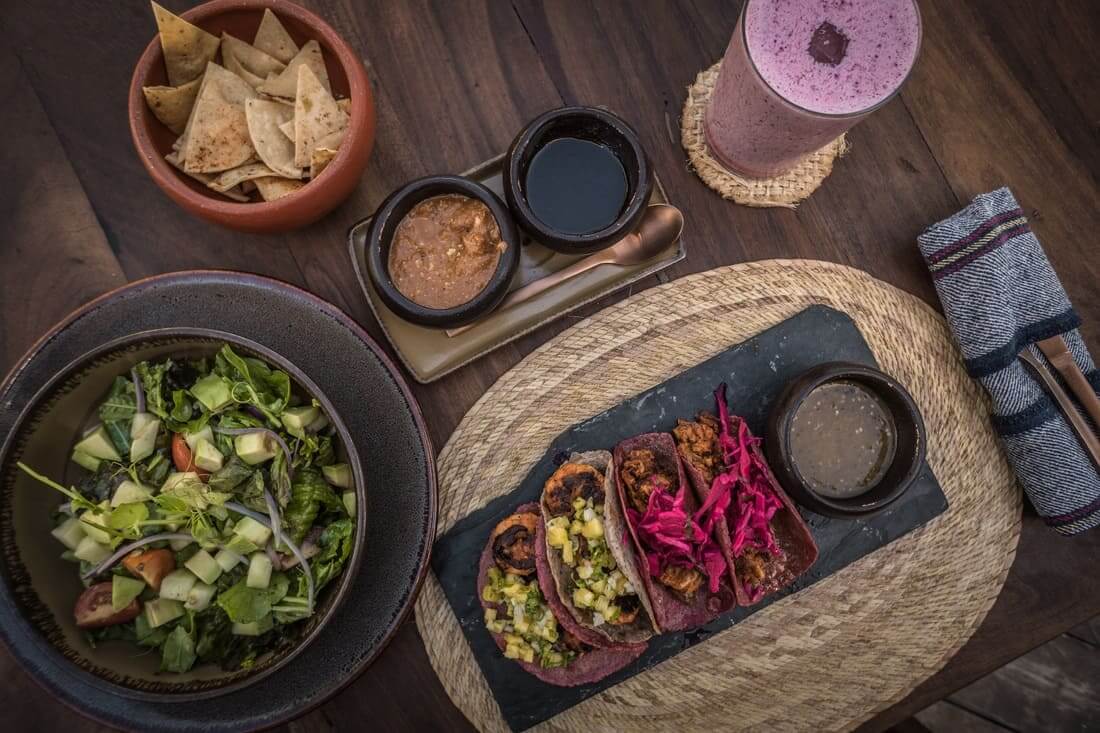 With its stunning beaches, ancient ruins, and vibrant culture, Tulum is a paradise for travelers seeking an unforgettable vacation. While exploring this charming coastal town, one must not miss indulging in its delectable tacos, a quintessential Mexican street food.
From local gems to hyped restaurants, Tulum offers a diverse range of taco joints that will leave your taste buds dancing with delight. Are you ready to savor the best tacos in Tulum? In the following list you'll find street-side stalls, hidden local gems, and renowned eateries to treat yourself to the most famous food in Mexico!
Taquería Honorio
Let 's begin our taco journey with a local treasure: Taquería Honorio. Nestled in downtown Tulum, this unassuming taco spot is a favorite among locals and visitors alike.
The aroma of sizzling meats fills the air as you approach this humble eatery. Honorio's tacos are known for their simple yet delicious flavors that transport you to the essence of authentic Mexican cuisine. It's one of the favorite taquerías in town, especially for traditional Yucatan food like relleno negro, poc chuc and lechon tacos.
It closes at 3 pm, so be sure to go early!
Ziggy's
For those seeking a taco experience amidst breathtaking ocean views, Ziggy's is the perfect choice. This beachfront restaurant not only offers a laid-back ambiance but also delivers mouthwatering tacos at lunch.
Picture yourself savoring freshly caught seafood tacos while the waves gently caress the shore just a few steps away. Ziggy's culinary team excels in blending local flavors, creating innovative tacos that showcase the bounty of the Caribbean Sea.
Pepe's
A renowned establishment among food lovers in Tulum, Pepe's is synonymous with exceptional tacos.
Located in the heart of the town, this bustling taco truck caters to all tastes, from traditional favorites to creative combinations. Whether you prefer classic tacos al pastor or adventurous options like shrimp coconut tacos, Pepe's has it all. Be prepared to embrace the vibrant atmosphere and flavors that will undoubtedly make you come back for more.
Antojitos La Chiapaneca
If you are searching for authentic street-style tacos, look no further than Antojitos La Chiapaneca. This street stall is an absolute gem for those wanting an immersive local experience.
Here you can have some of the best tacos al pastor in town, as well as a variety of local Yucatan food like salbutes and panuchos. Whatever your choice, Antojitos La Chiapaneca celebrates the richness of Mexican street food.
Tacos y Tortas El Tío
A small family-run taqueria with a big heart, Tacos y Tortas El Tío is a delightful find in Tulum. The welcoming staff and authentic flavors make it a favorite among travelers seeking an unpretentious taco experience.
Try their chorizo tacos or opt for the irresistible steak tacos that keeps everyone coming back time and again.
El Carboncito
For carnivores seeking the ultimate taco indulgence, El Carboncito is a dream come true. Specializing in charcoal-grilled meats, this eatery takes tacos to a whole new level.
Juicy and flavorful, the tacos at El Carboncito are a perfect blend of simplicity and excellence. Order their signature arrachera (skirt steak) tacos and pair them with a refreshing agua fresca.
Tropi Tacos
Also located downtown, Tropi Tacos stands out for its big menu beyond simple one-meat tacos.
While the star of Tropi Tacos is the sirloin tacos, here you can find dishes with combinations of meats and ingredients, such as pineapple, bacon and cheese, accompanied by tortillas to make your own tacos. There are also options for vegetarians.
Tatewari at Delek Tulum
Saving the best for last, indulge in the exquisite flavors of Tatewari at Delek Tulum. Our beautiful beachfront restaurant offers a selection of tacos that goes from cochinita pibil (the number one Yucatán dish) to octopus, shrimp and mushroom delights.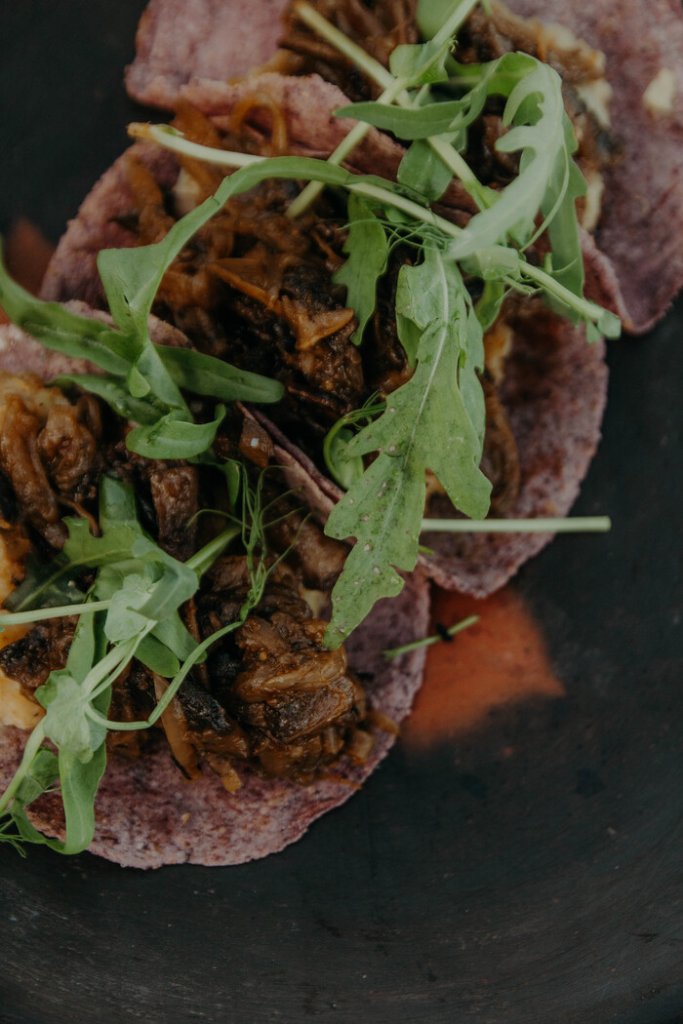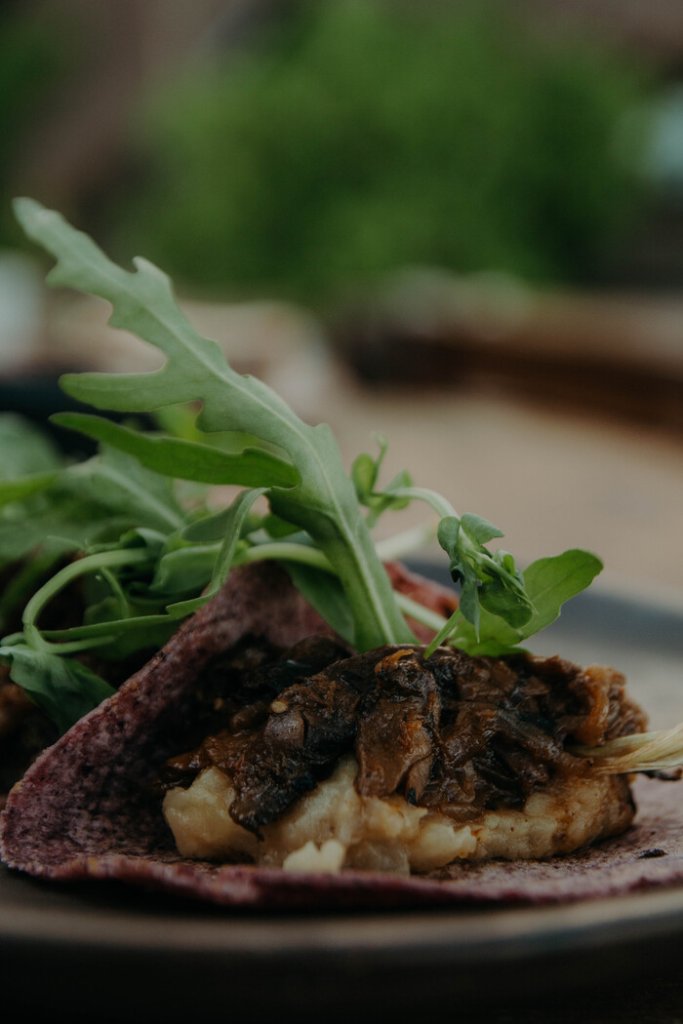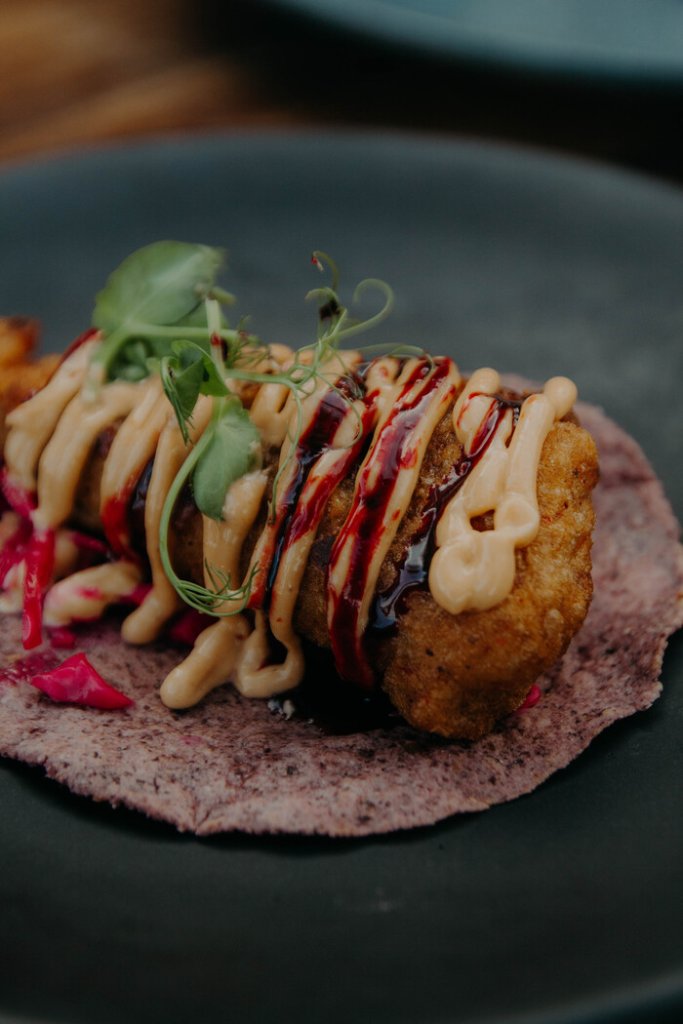 Our carefully crafted tacos showcase a fusion of traditional Mexican ingredients with contemporary culinary techniques, resulting in a gastronomic adventure for your taste buds. Whether you opt for our tacos Gobernador or the Norteños de Picaña, Tatewari promises a remarkable dining experience.
As you wander through the charming streets of Tulum, you'll find an abundance of taco joints, each with its unique charm and flavors. From local favorites like Taquería Honorio and Antojitos La Chiapaneca to renowned establishments like Ziggy's and Tatewari, Tulum offers a tantalizing taco trail to explore. Whether you prefer the authenticity of street tacos or the innovation of upscale eateries, the taco scene in Tulum caters to all tastes.
Amidst this culinary adventure, we invite you to stay at Delek Tulum, where you can relish the delights of Tatewari. Our beautiful hotel born out of love offers a delightful taco experience but also the best lodging experience, surrounded by nature and walking distance from all the vibe that makes Tulum such a unique destination.
Embrace the vibrant culture, indulge in the mouthwatering tacos, and create unforgettable memories in our paradise.
We'd love to see you soon.