Cenotes to visit near Tulum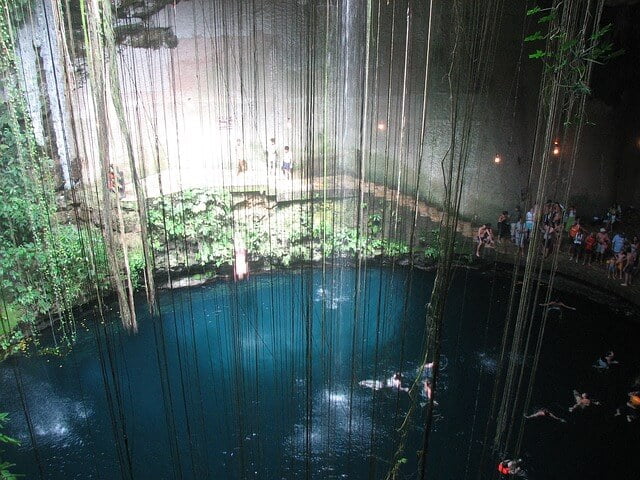 It's estimated that there exist about 2,500 cenotes throughout the Yucatan Peninsula... But, what are the cenotes?
Cenotes are natural freshwater ponds that are supplied by underground rivers. They are spectacular because their crystalline waters allow seeing all the natural formations and vegetation that lives under them. Taking a bath in its refreshing waters or simply admiring them from the outside is a great experience.
For the ancient Mayans, the cenotes were sacred places where they performed rituals and ceremonies. They also thought they were a kind of portal to the underworld. It is understandable as the light that filters between stalactites and stalagmites, the crooked roots of trees and their depth, make us feel as we are entering another world.
Many cenotes are full of fish, and other species of flora and fauna little known. Mayan artifacts and precious stones have also been found since some cenotes were destined to make sacrifices to the gods. The cenotes were not only important in the spiritual life of the Mayans but their life in general, since they provided the civilization with fresh water.
There are three types of cenotes, those that are completely open (like a lake), those that are partially covered and those that are cavernous or underground.
Near Tulum, several cenotes can be visited and are ideal for swimming, snorkeling and diving. These are some of the most recommended cenotes to visit while you are in Tulum.
Gran Cenote
This spectacular cenote is one of the best known in the area. With a nearly perfect circular shape and crystal clear waters, it offers a wonderful underwater landscape full of stalagmites and stalactites. It has a lot of natural light and a depth of approximately 30 feet, so it is perfect for swimming, snorkeling and diving.
Distance from Delek: 25 minutes by car.
Cenote Aktun- Ha
This is a semi-open cenote and the snorkeling area is about 16 feet deep. It also features a cave that can only be accessed by diving with authorized guides.
It has a platform to jump into the water, and here, it's very common to see turtles and fish, as well as aquatic plants and sunken trees.
This cenote joins through caves with the cenote Zacil-Ha.
Distance from Delek: 25 minutes by car.
Cenote Zacil-Ha
This cenote of jade-color waters is also a favorite for swimming. It has a cavern that leads to a camera called "Las Lágrimas" (Tears) for its drop-shaped stalactites.
The edges of the cenote are lined with a wooden floor in case you don't feel like getting into the water, but still you want to admire it from the outside.
Distance from Delek: 25 minutes by car.
Casa Cenote
Casa Cenote is located just 1,600 feet from the sea, so while visiting it, you can also enjoy the beach. It's surrounded by mangroves, is shallow and has a wide diversity of marine flora and fauna.
It's also known as Cenote Manatí (manatee) since, until a few years ago, these animals could be seen swimming in its waters.
Distance from Delek: 30 minutes by car.
Cenote Dos Ojos
This cenote is a beautiful flooded cave with an approximate depth of 390 feet and miles of underground routes. Due to the transparency of its waters, the visibility is excellent, so it's an ideal spot for diving.
Being a nearly closed cenote, the water is very cold, so it's recommendable to wear a wetsuit.
Distance from Delek: 40 minutes by car.
Clan-destino
Clan-destino is a burger joint that has a small cenote inside. It's located almost in front of Delek, so you only have to cross the street to get there.
It's a fun place to grab a bite, have some drinks and cool off in a beautiful natural pool.
Distance from Delek: 1 minute on foot.